3. Bring Your Best Offering to God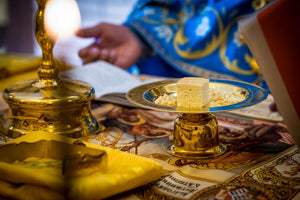 Bread is a partnership between man and God just as the Bread of Life (Jesus) is a partnership between mankind (Mary, the mother of Jesus) and God.
Yet, as you will discover in Wheat Went Wrong, the overwhelming majority of the wheat varieties on the market today are hybridized versions that we engineered in a lab, that are sustained with fertilizer, that are watered by irrigation, and beginning to be grown through artificial light.
There is an ancient Eucharistic prayer which says:
Blessed are you, Lord, God of all creation. Through your goodness we have this bread to offer, which earth has given and human hands have made. It will become for us the bread of life.
If we don't need God for the seed (we can create our own "better" versions in a lab), and we don't need him for the soil (we have fertilizer), and we don't need him for the rain (we have irrigation), then what are we thanking him for in our Eucharistic (Thanksgiving) meal?
Further still, almost all of the wheat that we eat today and bring before the Lord on Sunday is planted, harvested, sifted, milled, packaged and even baked by machines.
What are we bringing before the Lord but artificial bread made by machines!
Leave a comment
Comments will be approved before showing up.